Clarity Pro Touch 27" UHD 4K Monitor

Dual 4K Universal Docking Station – DisplayPort Edition
Unrivalled 4K Touchscreen
Clarity Pro Touch's precision 10-point touchscreen lets you get hands on with your work.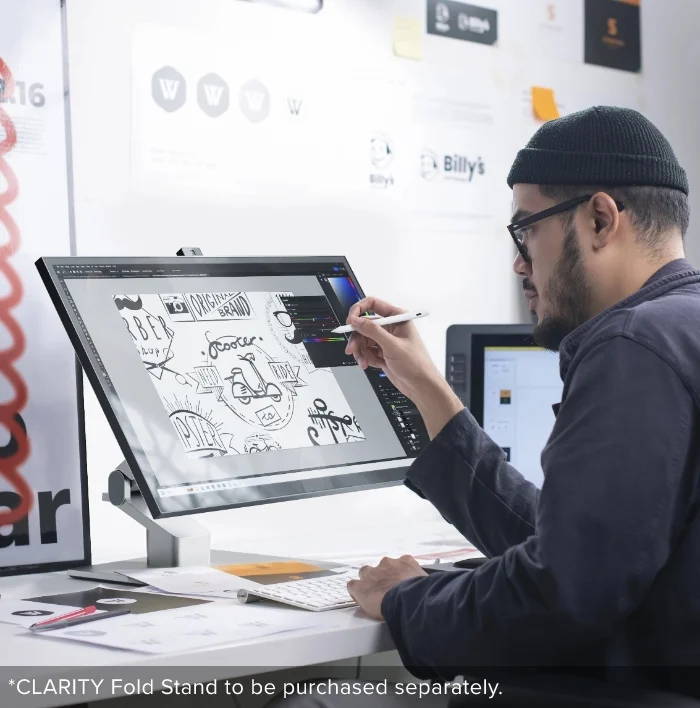 Clarity Pro Touch lets you unleash your creativity in whole new ways using your fingers or a capacitive stylus.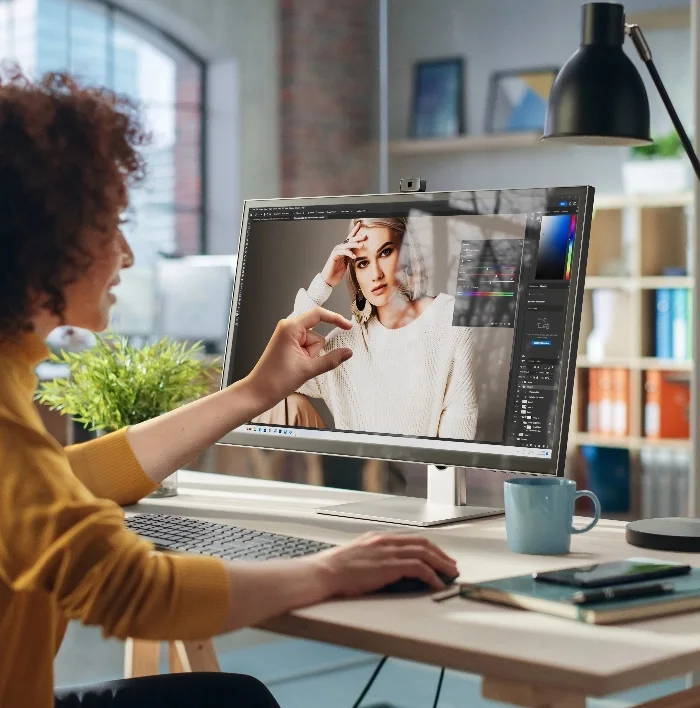 Intuitive Touch Navigation
Navigate your digital canvasses with using all the intuitive touch gestures you're used to from your phone and tablet*.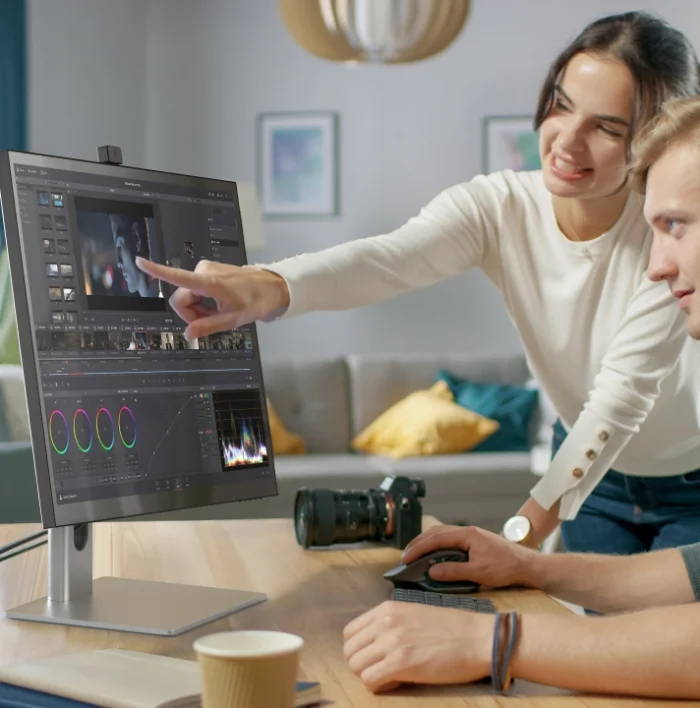 Precision 10-Point Multitouch
With an ultra-thin One Glass Solution (OGS) touchscreen capable of tracking up to ten points of touch at once, you've never felt closer to your work.
*Touch gestures are application and operation system dependent.
the canvas you've always dreamt of
Clarity Pro is an exceptional display for digital artists who require absolute confidence in their work. This studio-quality, 27" 4K display presents your work in perfect colour, while its retractable 8MP webcam ensures you're always looking your best. Its rear USB hub lets you declutter your studio and connect to your entire workstation with a single cable, leaving all your focus on what truly matters: your next masterpiece.
Refine your compositions in a more intuitive way, using your fingers or a stylus to quickly find the perfect levels in Lightroom or navigate your extensive library.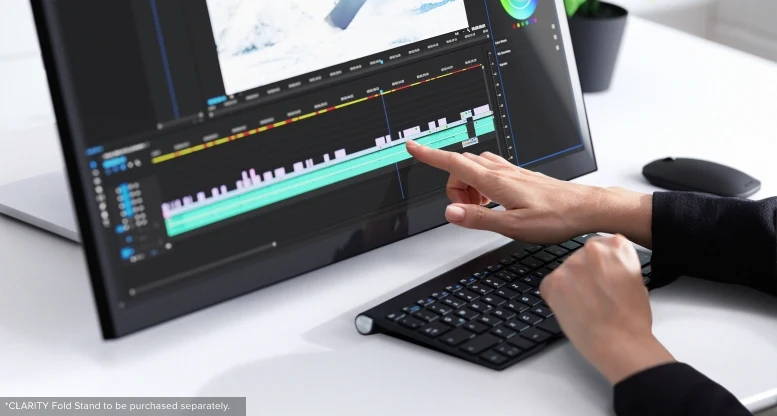 Interact with your music in a whole new way using Clarity Pro Touch's 10-input precision touchscreen. Fine-tune virtual instruments, play around with your morphs and discover new sounds in DAWs such as Pro Tools or Ableton Live.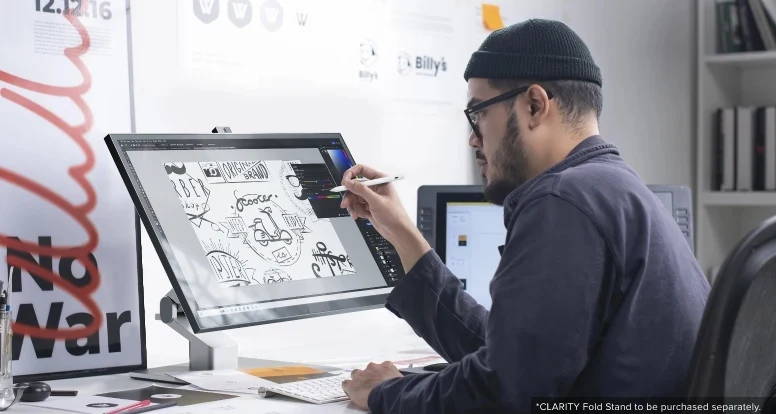 Bring your ideas to life with Clarity Pro Touch's precision touch screen. Use your fingers or a capacitive stylus to interact with programs like Adobe Photoshop, Illustrator or SketchUp in a whole new way.
Look stunning with a crystal-clear picture
Put your best foot forward with the crystal-clear picture of Clarity Pro's 8MP retractable webcam. Clarity Pro's smart webcam
automatically slides back into the monitor when it's not in use, preventing anyone from spying on you without the hassle of a manual privacy switch blocking your webcam every other time you jump on a call. With Clarity Pro's 8MP retractable webcam you'll look stunning – but only when you want to.
Works with the apps you love.
everything that uses your webcam





The webcam's angle is easily adjusted via its rear scroll wheel, ensuring you're always the centre of attention. It takes just seconds to dial in your best angle with Clarity Pro's webcam adjustment wheel – but the impression you make will last a lifetime. Say goodbye to all your laptop webcam's awkward angles and hello to your best look.
8 ports in 1, 6 functions
USB-A
USB-B
HDMI
DisplayPort
USB-C
Audio Output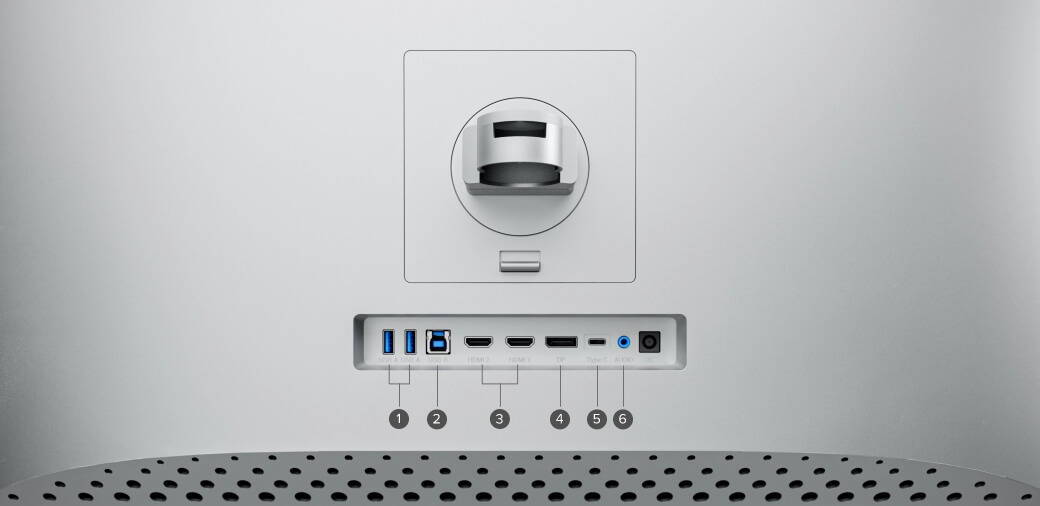 Phenomenal Colour Depth in Ultra HD
Exhibit your craft like never before with more than one billion colours across Clarity Pro's breathtaking 27" 4K screen. Its exceptional colour gamut, vivid 350 cd/m2 brightness and sharp HDR contrasts make it a powerful tool you can stake your creative reputation on.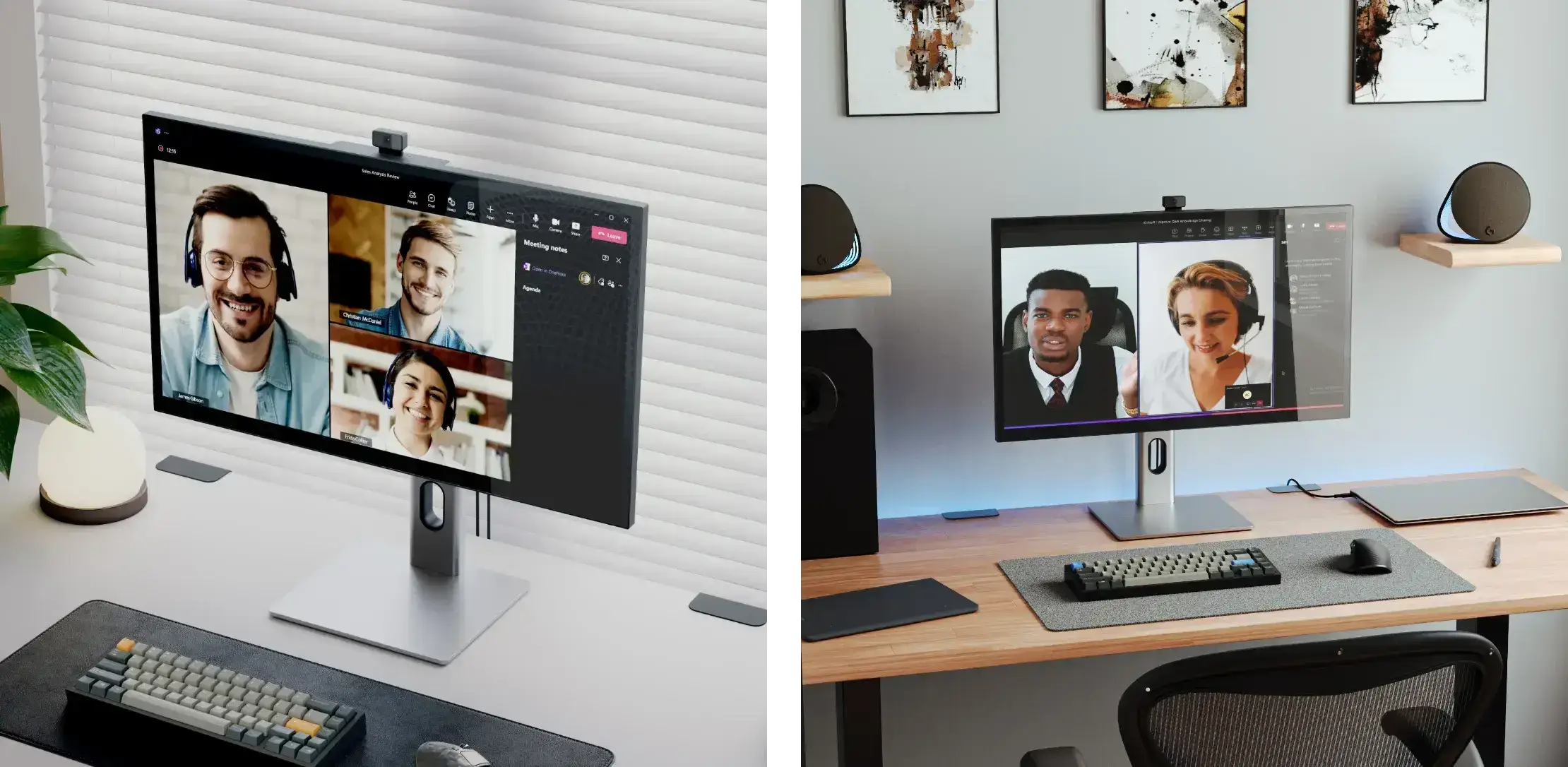 Includes a completely adjustable metal stand that allows you to move the display where you want it. Can rotate to landscape or portrait, tilt or swivel making perfect for any type of work.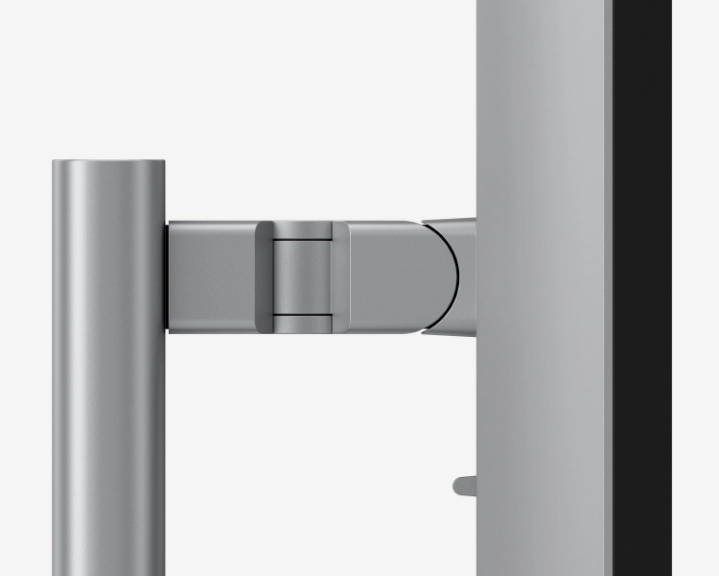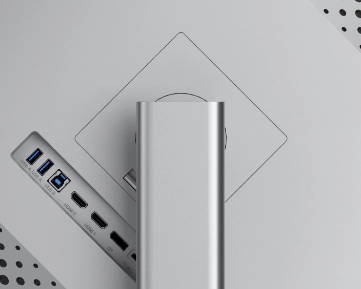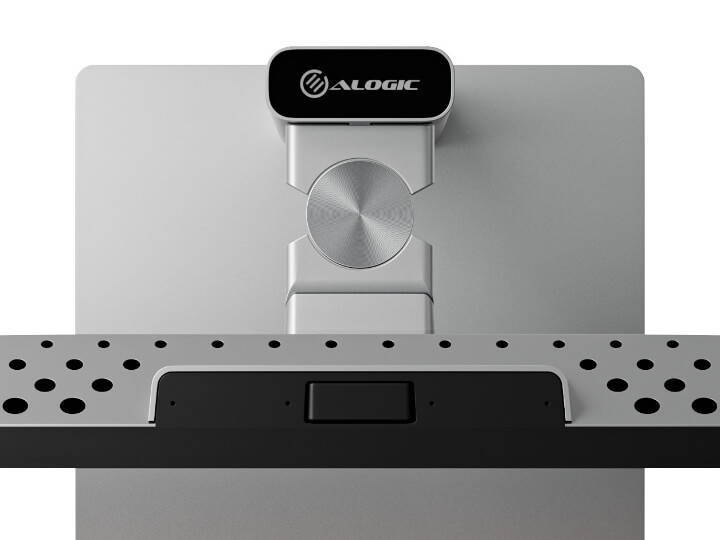 Ergonomics For Easy Viewing
The CLARITY also features In-Plane Switching [IPS]. IPS display panel technology enables workplace teams to view the same screen from angles up to 178 degrees [almost completely sideways], without diminishing image quality.
With Clarity's smart rotation sensor, it takes just seconds to switch from landscape to portrait, perfect for editing vertical video,answering emails or monitoring a livestream. When you're done, switching back is just as easy.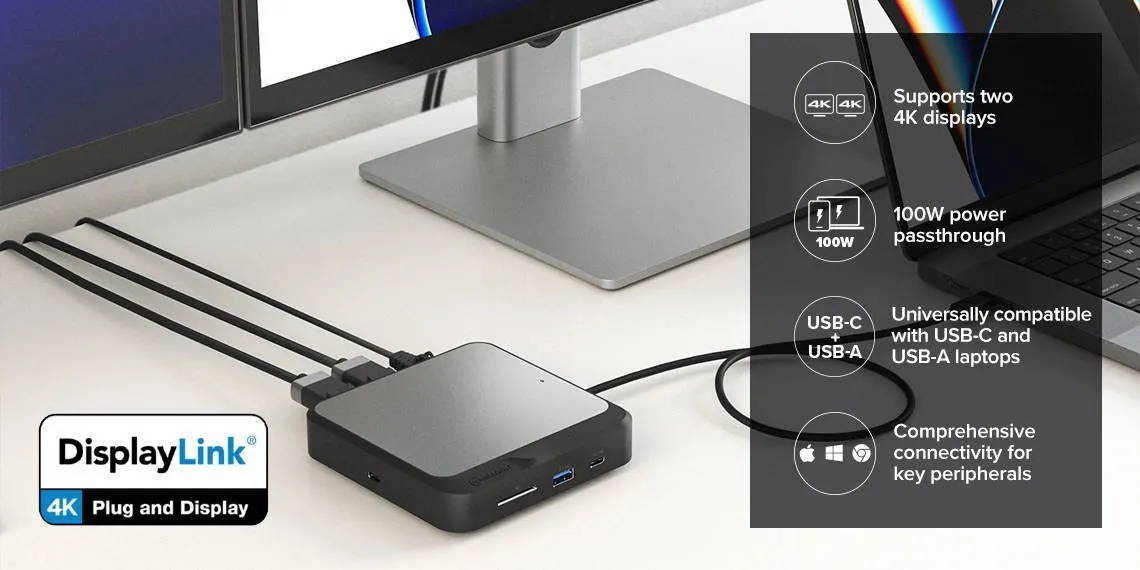 Connect up to Two 4K Displays

ALOGIC's Dual 4K Universal Compact Docking Station's twin DP outputs enable you to connect two external displays at resolutions up to 4K.
The dock's inbuilt DisplayLink technology ensures you experience the highest-possible screen resolutions for your computer monitor, regardless of your computer model, or whether you connect to USB-A or USB-C ports.
When you expand your screen real estate with the CD2, you have better oversight of your work. This oversight can improve your efficiency and productivity.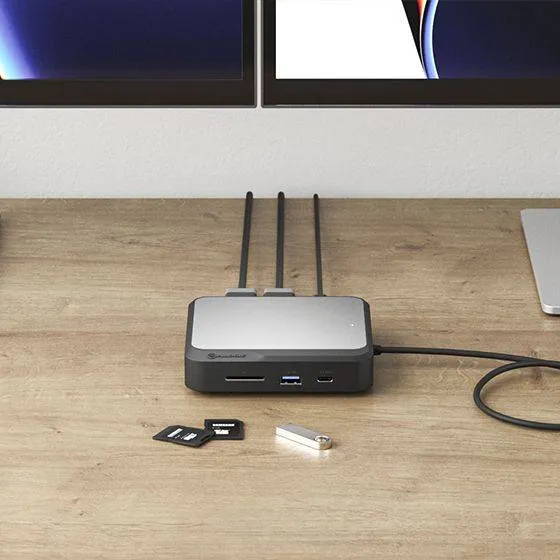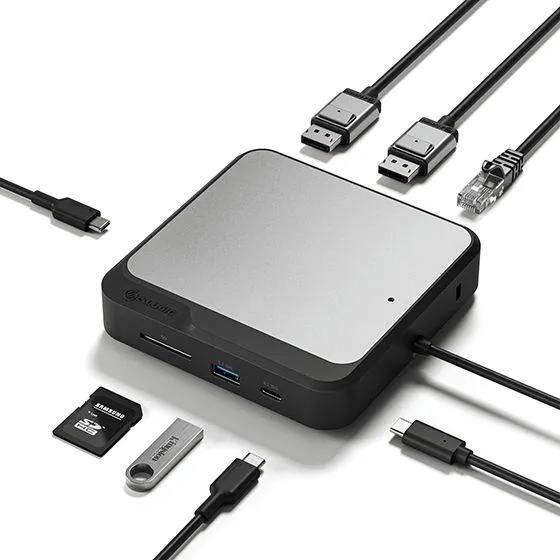 Comprehensive Connectivity for Your Desk

The CD2's comprehensive suite of high-performing ports supports the versatile connectivity needs of homes, schools, and businesses. The dock's USB-A [3.2 Gen 2, 10Gbps] and USB-C ports [3.2 Gen 2, 10Gbps] keep essential USB accessories such as external drives, scanners, keyboards, and mice humming.
Connect your laptop to the CD2 for up to 100W pass-through charging [when the CD2 is connected to an external power adapter], and connect to the Internet with Gigabit Ethernet when security and stability are paramount. The CD2 also features an SD 4.0/UHS-II Card Reader, so you can rapidly transfer your bulky multimedia libraries to and from the dock.
Passthrough Charging While You Work

The compact CD2 is built to fast-charge your laptop with up to 100W power delivery while you run multiple displays, USB accessories, and Ethernet, all over a single USB-C cable*. All you need to do is plug your laptop in when it's time to get to work, and unplug when it's time to take your laptop on the road.
*When connected to a host computer with USB-C ports that support USB Power Delivery, the CD2 will connect peripherals and charge the laptop over a single USB-C cable. USB-A enabled laptops can be charged from the dock using the ALOGIC DCAP-SPL USB-C Data + Power Splitter (available separately).
When you need your laptop for mobile work, the CD2 docks can also operate by connecting directly with your computer's USB port [without an external power supply]. However, factor in that the docks' USB-C ports are inactive in the absence of a power adapter connection, due to power constraints.